This Ephemeral Life: Ibidun Ighodalo's Last Days Captured On Camera (Video).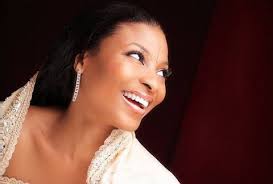 Ibidun Ighodalo's last days on earth was captured on camera. The philanthropist and woman of God had left Lagos for Port Harcourt for a job but decided to stop by at Ibadan, a place her parents lived all their lives and where her father, Late Chief Ajayi was buried.
Ibidun went on to the grave yard her dad was buried with her aunt before she continued her journey to Port Harcourt and never returned.
Below is a write up by Dele Momodu explaining her last days on earth.
"For me, this is the most important video of IBIDUNNI IGHODALO…
And this story is mysterious, spiritual and surreal. IBIDUNNI had grown up in Bodija, Ibadan, with her parents MR & MRS OLALEYE AJAYI. The Dad lived, died and was buried at Sango cemetery in Ibadan though he originated from Araromi Ilesa.
Days ago, IBIDUNNI was on her way to Port Harcourt, her last journey on earth, and she suddenly said she's missed her Dad and once she got to Ibadan, she detoured to Sango Cemetery, accompanied by her aged "Aunt" according to impeccable sources. She went and sat and prayed on the grave. Was there a premonition of what was to come hours later?
IBIDUNNI could be seen wading through the labyrinth of undulating paths in search of the grave. She looked so determined to find her Dad's resting place by all means. She had Police guards in toe. Her determination was palpable.
From Ibadan, the convoy headed to Port Harcourt where IBIDUNNI was working frenetically on delivering a COVID-19 Isolation Center like she's done in Lagos and several other States.
IBIDUNNI loved to take on and achieve mega projects. Her proclivity for spectacular ventures made her one of the hardest working and remarkably successful women in Africa. Her company ELIZABETH R, was a leading conglomerate in Events planning, Decoration, Rentals, Construction of Marquees and Equipment Supplies… She was passionate and daring… Her beautification of Lagos during Christmas seasons was legendary. She worked feverishly to light up and Lagos and turned the streets to a Dubai in the works…
She had worked tirelessly on delivering COVID-19 Isolation Centers to all strategic States in Nigeria at the speed of light and with mathematical precision. Quality was her watchword… IBIDUNNI first came into limelight when she won the MISS LUX BEAUTY PAGEANT about two decades and she appeared boldly on the pages of OVATION INTERNATIONAL magazine. There was no stopping her, thereafter. She was destined to conquer the world and would later marry the amazing man of God PASTOR ITUAH IGHODALO and both enjoyed a whirlwind romance befitting the rich and famous…" May her beautiful soul Rest in Peace…"
Written by DELE MOMODU
EndSARS: CNN, Amnesty International Must Apologise To FG -Lai Mohammed
The Federal Government has demanded an apology from Amnesty International, CNN and DJ Switch for misleading the world that there was a massacre at the Lekki Toll Gate on Oct. 20, 2020.
The Minister of Information and Culture, Lai Mohammed made this demand on the occasion of the first year anniversary of the famous #EndSARS protests in Nigeria.
According to the Minister who spoke during a press conference in Abuja on Wednesday, CNN, Amnesty, and DJ Switch are all guilty of spreading fake news.
Mohammed maintained that there was no massacre of Nigerian youths at the Lekki Toll Gate incident during the protest last year and the trio mentioned only gave false and misleading reports.
The Minister insisted a professional analysis of what transpired at the Lekki Toll Gate revealed that the military didn't massacre anyone while if truly there was any killing as widely reported, the families of the victims and those affected would have appeared with evidence before the Judicial Panel of Inquiry.
Not done, Lai Mohammed further accused the trio of spreading 'tales by moonlight' about what he described as the phantom killings at the Lekki Toll Gate during the EndSARS protests last year.
He said: "…During the sitting, CNN was summoned but it never showed up, thus missing a great opportunity to prove its allegation of massacre at the toll gate. Also, Amnesty International had a golden opportunity to convince the world, but it rather opted for issuing meaningless press releases."
"In its latest attempt to grasp at straws and redeem whatever is left of its battered credibility on this issue, CNN has continued with its baseless report that soldiers shot at protesters. In a report currently running on the network, CNN brazenly and unashamedly held on to its flawed narrative, relying on an unidentified mother whose son was reportedly shot dead at Lekki, but without convincing evidence of who shot him dead. The same CNN that tweeted on Oct. 23rd 2020 that 38 people were shot dead at Lekki is now struggling to convince the world that one boy was killed at Lekki. What a shame!"
"The testimony of ballistic experts before the Judicial Panel of Inquiry in Lagos contradicts the tales by the moonlight by Amnesty International, CNN, a runaway DJ, and their ilk."
BREAKING: Police Arrest #EndSARSMemorial Protesters At Lekki Tollgate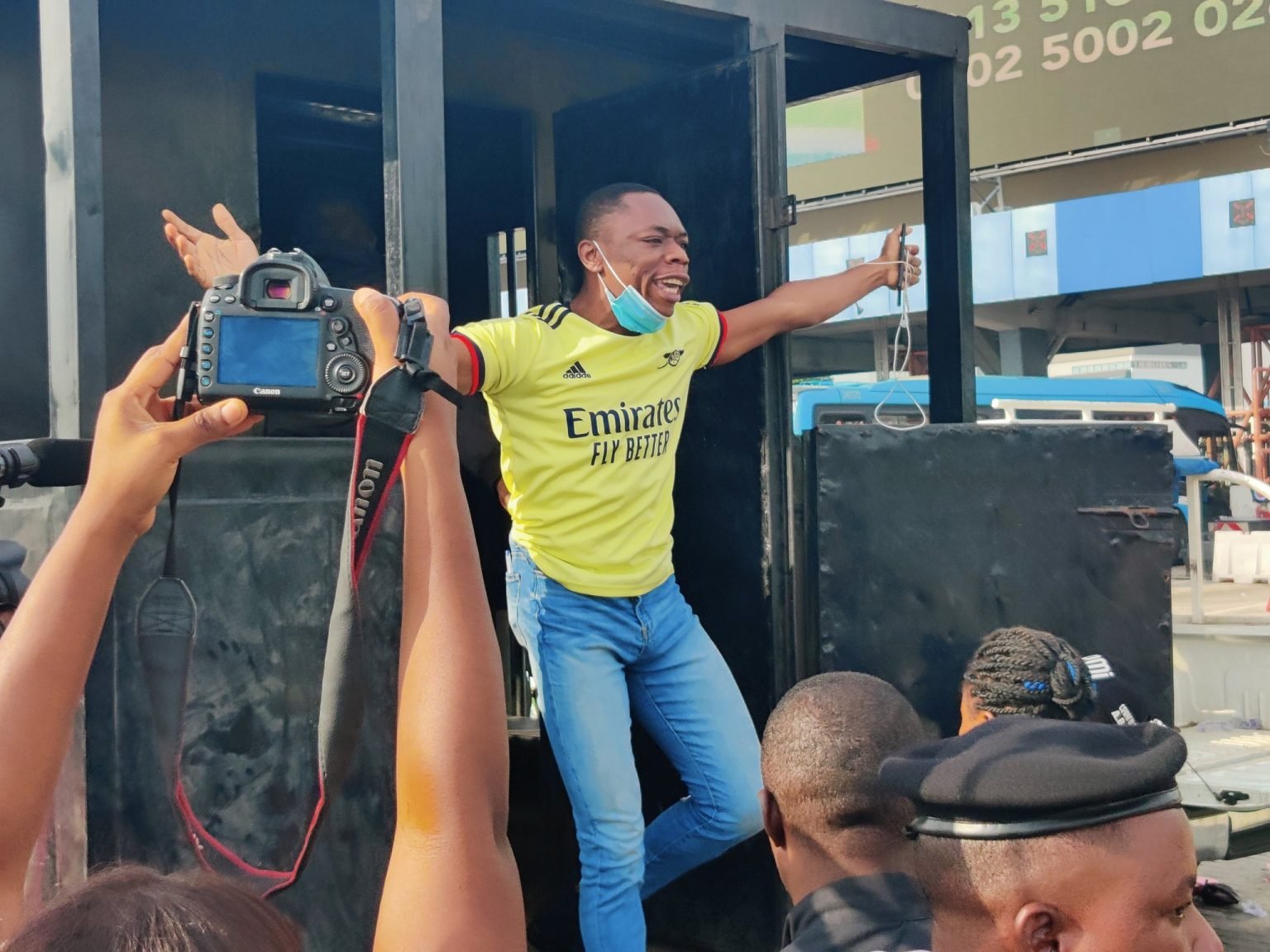 Operatives of the Lagos State Police Command have arrested two protesters at the Lekki tollgate where the #EndSARS Memorial Protest is scheduled to hold in the state today.
One of those arrested claimed to be a journalist while the other was seen carrying a placard.
The police had reportedly warned that anyone seen at the tollgate without an ID card will be arrested.
The arrested journalist told newsmen that he works with LegitTV and that his phone, driver's license and other documents were taken away from him.
Speaking from a Lagos State Task Force van where he was kept by the police, the journalist who identified himself as Abisola stated that he lost his ID card in transit.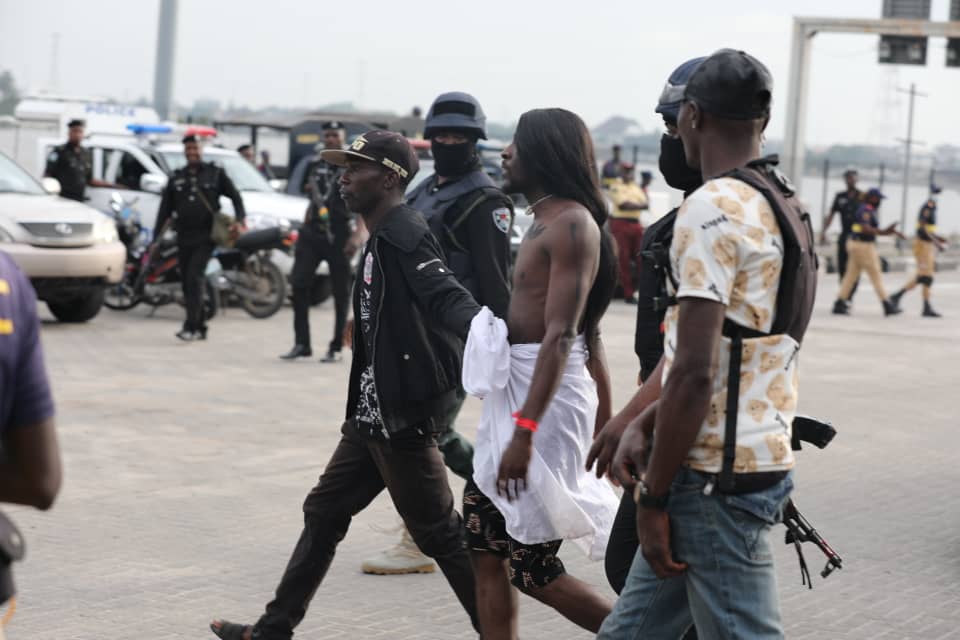 About 30 police trucks and armed personnel are currently at the tollgate to enforce a ban on protests issued by the police command.
A car procession in honour of those believed to have lost their lives at the tollgate when soldiers dispersed #EndSARS protesters on October 20, 2020, is scheduled to hold at the tollgate today.
What #EndSARS protests were about
The #EndSARS protests which were held in October 2020 were against the activities of the now-disbanded Special Anti-Robbery Squad, a unit of the Nigeria Police Force which was accused of police brutality.
The epicentre of the protests was the Lekki tollgate in Lagos where many youths gathered day and night to air their grievances against police brutality and bad governance.
They were dispersed from the location by gun-wielding soldiers on October 20, 2020, an action which some quarters believe led to the loss of lives.
This was followed by the destruction of private and public properties by hoodlums in Lagos, an incident that informed the latest warning issued by the police in the state.
PUNCH
Police Threaten To Punish Inspector For Voting At APC Congress
The Zone 1 Command of the Nigeria Police Force, Kano, on Tuesday said its attention had been drawn to a trending picture on the social media, of a police inspector casting his vote at the Kano State congress of the All Progressives Congress alongside his principal, the state party chairman, Alhaji Abdullahi Abbas.
A statement by the Zonal Public Relations Officer, DSP Abubakar Ambursa, added that the inspector had been identified as Bashir Mohammed of the Special Protection Unit, Base 1, Kano.
According to the statement, the Inspector is attached to the Government House, Kano, from where he was deployed to work with Abbas as a security aide.
"In view of this seemingly unprofessional conduct of the inspector, the AIG (Assistant Inspector General of Police) has referred the matter to the Zonal X-Squad for investigation.
"If the inspector is found to have committed the offence, appropriate disciplinary action will be taken against him," the statement said.
The police assured members of the public that further development on the matter would be communicated.