HOW I SURVIVED COVID-19: MY 17 DAYS DIARY ASOKORO ISOLATION CENTER.
3 Days of Battling Demons Under Intensive Care…
The journey began in earnest when the Ambulance driver backed up the vehicle to the entrance of the Asokoro Special Treatment Clinic Complex at 11: 46pm on the 18th of May 2020.
I was however to wait in the van for another 20 minutes, perhaps for the doctors to get into their protective gears before admitting me.
The door finally slid open and I was helped in by the team. The walk up the stairs to the first floor was laborious for me, as I was seriously gasping for air by the time I got to the first landing. I told them that I needed to rest to catch my breath.
It is however interesting to note that, I was asked the moment I stepped into the building if they should wheel me in, but I refused the offer, still forming strongman and yet to come to terms with what I was dealing with.
We eventually got to my assigned room! I took in my new surrounding in mild surprise. Sparkling clean, air conditioned with no hospital smell. If not for the medical gadgets and the small standard issued beds, you would think you're in a hotel room.
My head was still spinning, couldn't breathe properly and in acute pains as the doctors asked me several questions.
"What's your name sir?"
"Olawale Dawodu"
"State of Origin?"
"Lagos State"…
Occupation?
"Journalist"…
My vitals was taken with the patients monitor machine nearby.
At this point, the brilliant, amiable and experienced Dr Ahmadu Introduced himself to me as the lead consultant ( a genius in his chosen field and a former 2 term MD of Asokoro District Hospital, as I later found out). He was worried about my pulse rate and said my potassium level is too low.
Are you hypertensive", he probed; "No, I replied.
"Are you asthmatic?";
"Yes", I responded.
His mood suddenly changed through the tone of his voice to that of concern. He had a short conference with his team, i couldn't hear much of what he said to them, but I heard him say " we must treat his asthma first before the Covid can do more damage. He then asked if I was with my Ventolin. I nodded. He said good. " Use it now"!
I told him I was having serious difficulty with breathing. He prescribed some injections, just as he told his team to set up drip for me.
I also told him I've lost sense of taste and smell with no appetite, after which he immediately instructed two members of the team to quickly get oxygen and set it up.
They brought in a giant oxygen cylinder, 10 of which I eventually used, aside 5 smaller ones before I stabilized and was eventually eased off oxygen support.
As the night wore on, my condition became worse, but by divine intervention, the doctors were around when I had the first of the three asthma attacks.
As you well know, asthma is a chronic lung condition that affects the airways and causes inflammation. This inflammation causes spasms and narrowing of the airways, which leads to wheezing, breathlessness, and coughing. Generally, when a person contracts a respiratory virus, the infection sets the body's immune response in motion. In people with asthma, this can lead to an overproduction of substances that only worsen inflammation.
COVID-19 is slightly different. It causes an inflammatory process inside lung tissue rather than the usual bronchial inflammation that occurs in asthma.
Respiratory viral infections, such as COVID-19, triggers and worsens asthma symptoms. it can also lead to pneumonia in people with moderate to severe asthma.
It can easily lead to death.
As they battled to keep me conscious, I slid off into the abyss, a deep and bottomless chasm…
They came taunting, barring fangs, grotesque in shape and some in shapeless form.
Since I got nothing to lose, it turned to a battle of survival. I took them headlong as I was being dragged down a dark hole, and I somehow, always managed to wriggle out from their grips and start floating back to the surface where I could see bright lights.
This tussle, this heavy fight seem to have lasted forever. If I defeat some, new ones will form to drag me down the hole again.
From the bottomless pit, something more primordial than life itself kicks in just at the nick of time before am dragged into total darkness.
From the inner recess of my being, a voice shouts out NO! The voice constantly warned me of the consequences of giving in, abused me even, that I must man up. I then willed the much strength I could muster to extricate myself and start floating to the surface again.
I never knew that I was in Intensive care for three days as this was going on. I was oscillating between here and the thereafter.
I woke up to the steady but grating sound coming from the patient monitor with my right thumb clasped to its reader and oxygen mask strapped to my face.
The day was Thursday 22nd May, 2020. As at that time I'd lost sense of time. I didn't even know,
I thought it was a Tuesday!
To be continued…
Ogbeni Olawale Dawodu Snr. (Abuja)
Helen Prest Has No Shares In First Foundation – Oluwayemisi Ajayi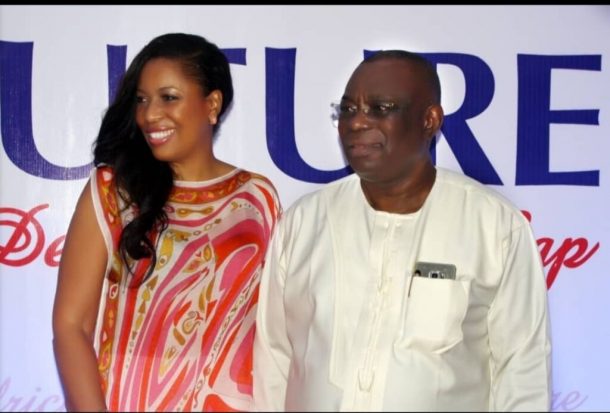 The battle over the estate of the late Lagos-based businessman, Dr. Tosin Ajayi, is heating up at the Federal High Court in Lagos, with his widow Oluwayemisi Ajayi, raising allegations of adultery against a former Miss Nigeria, Helen Prest and saying that the latter is not a shareholder in First Foundation.
The widow, in a 27-paragraph counter-affidavit filed against Prest's suit, said she and her husband were legally married under the Marriage Act and never divorced till his death.
She alleged that Prest, with full knowledge of Dr. Ajayi's subsisting marriage, carried on an illicit relationship with him as his concubine.
The suit was filed on July 23, 2021, and has First Foundation Medical Engineering Company Ltd (FFMECL); Registrar-General of the Corporate Affairs Commission (CAC); Oluwayemisi Ajayi; and Patrick Abak, a lawyer as first to fourth respondents.
While Helen Prest was listed as the second plaintiff, her daughter Tomisin Ajayi was listed as the first plaintiff.
The legal battle is centred on who should control FFMECL and other properties owned by the firm.
In her 71-paragraph affidavit in support of the suit against the respondents and deposed to by Helen Prest's daughter (first plaintiff), she averred that her late dad married Oluwayemisi and they had children, but they were separated for 35 years before her father's demise.
Tomisin claimed that in the course of the separation, the late Ajayi and her mother, Helen Prest married and gave birth to her.
But in a counter-affidavit deposed to by the widow and filed on September 13, 2021, Oluwayemisi Ajayi averred that she was aware that Tomisin presents herself as the "love child of an adulterous relationship" between her deceased husband, Dr. Ajayi, "and his adulteress," Helen Prest.
The deponent stated that although she was not in a position to confirm if Tomisin Ajayi is a child of her late husband, because the late Ajayi did not introduce her to the family in his lifetime, she was ready to accept the first plaintiff in good faith as one of the beneficiaries of the estate of her deceased husband.
On the ownership of FFMECL, the widow claimed that she and the late Ajayi built the firm together and that at no time was her deceased husband the sole beneficial shareholder or director of the company. She stated that since the incorporation of FFMEC, she had always been a shareholder and director of the company.
On her marital status to the late Ajayi, the widow averred that she was legally married to the deceased and there was no divorce. She challenged Helen Prest to present any document in opposition to her marriage certificate.
She stated: "My late husband never cohabited (and never decided to cohabit) as a common-law partner with the second plaintiff in the United Kingdom.
"The second plaintiff was desirous of a marriage and legally cognizable relationship with my late husband, Dr. Ajayi, from the outset (including urging him to divorce me), a proposition which he consistently rejected throughout his life despite the second plaintiff's incessant solicitations for same."
The widow stated further: "Although Helen Prest was a concubine of my deceased husband, she was never a shareholder, director, officer, employee or business partner of, or otherwise associated with the affairs of, FFMECL or any other companies in which my husband was a major shareholder (including those wherein I am also a shareholder)."
Late Tosin Ajayi's Children Fault Helen Prest's Claim To Their Father's Estate
The children of Mrs. Oluwayemisi Ajayi, the widow of Dr. Tosin Ajayi of First Foundation Medical Engineering Co. Ltd, have come out to debunk the false stories making the rounds on the social media that, on the 7th of September 2021, the Federal High Court, Lagos, awarded Helen Prest, a mistress of the Late Dr. Tosin Ajayi, 50% of the estate of Dr. Tosin Ajayi.
According to the first child of Mrs. Oluwayemisi Ajayi, Mrs. Olutomi Deru (Nee Ajayi), "the order, which was strangely granted in the absence of the company and our Mum, only granted Helen Prest and her daughter permission to institute their main action and restrained our Mum from running the company pending the determination of the main suit."
She said the orders were temporary orders and that the court did not make any order granting Helen Prest any share in the estate of their Dad contrary to the blatantly false and sensational stories being circulated in the social media.
According to her, "the court did not rule on any of the claims they are making in their main suit and they are not even claiming 50% of our Dad's estate in their main suit.
So, the social media reports are bizarre and at odds with the court's order that one can only conclude that the reports were either sponsored by Helen Prest or issued by her supporters for mischievous purposes."
The third child of Mrs. Oluwayemisi Ajayi, Mrs. Omolade Soetan (Nee Ajayi) also narrated that the orders were fraudulently obtained as no hearing notice was served on our Mum or the company or their lawyers, Kunle Adegoke & Co.
"The court had previously granted certain interim orders (also in the absence of the Defendants) on 5th August 2021 and our lawyers had earlier filed an application to set aside those interim orders and the application was pending before the Court when the court made its September 7 order which is still pending before the court.
Helen Prest and her lawyers exhibited the highest level of desperation by pretending to have served our Mum with a hearing notice whereas they never did. They obtained the orders of the court fraudulently and our lawyers are taking the appropriate steps in this regard" she added.
Mrs. Omolade Soetan further stated that, just a few days before the court's September 7 order, the Plaintiffs had served a counter-affidavit against the application filed by our mother to set aside the August 5 interim orders obtained by Helen Prest, which were based on the same information as the September 7 order.
"So, it was abundantly clear that the Defendants would not miss an opportunity to be heard on any other orders that the Plaintiffs were seeking. The Plaintiffs have become so desperate that they do not mind to win the matter fair or foul," she said.
Mrs. Deru went on to say "regardless of whether there was any evidence of the service of a hearing notice before the court, it is quite puzzling that the judge would disregard our mother's application to set aside its earlier orders that was before it and went on to hear the Plaintiffs' application without giving the Defendants another opportunity to appear before the court."
When asked if she and her siblings were ready to accommodate Helen Prest's daughter, Tomisin, in the estate of their father, Mrs. Deru said that that has always been the case.
According to her, even though their Dad never introduced Tomisin to any member of the family as his daughter, they chose from the outset to accept her as their Dad's daughter in good faith.
"In fact, shortly after our Dad's funeral, we wrote to Tomisin to join as an administratrix in our application to obtain Letters of Administration for our Dad's estate, but Tomisin turned down the offer preferring to go it alone.
We later discovered that Tomisin and her Mum had shamelessly filed for Letters of Administration several months before our Dad's funeral,".
According to Mrs. Soetan, many things that Helen Prest has done since their Dad's passing, has shown to them that her plan is to get not only a share of the estate for herself, notwithstanding that she was just a mistress, but to get more than half if not the entire estate to herself and her daughter.
Speaking about Helen Prest, Mrs. Deru said "the truth is that she's a woman that aggressively pursues a public perception of grace and class, but she has shown us that all of that is just a huge façade – in reality, she is a shameless and classless woman.
She wants a recognition that our Dad refused to legally grant her during his lifetime.
Now, we know why our Dad consistently refused to do so," she added.
"Our Dad was known to fight many land disputes all the way to the Supreme Court, and we're ready to go the length with this case – all the way to the Supreme Court. This is just the beginning. Justice will prevail in the end," she concluded.
She further narrated that their mother, Mrs. Oluwayemisi Ajayi, remained the legal wife of her father till death as the couple never divorced and that the funny narratives being spurn by Helen Prest are just meant to cover the fact that she only engaged in an illicit relationship with their father which produced Tomisin.
She concluded that such a relationship, would never make Helen Prest a wife or a beneficiary of their father's estate.
The matter before Justice Ringim has been transferred to the Administrative Judge for re-assignment and no date has been fixed for further hearing.
Abba Kyari Allegedly Builds Multi-Million Naira Mansion Made Of Glass And Steel In Borno- Resident Reveals
A resident of Borno state has said the bribery allegation against Nigeria's Deputy Commissioner of Police, Abba Kyari by suspected fraudster, Ramon Olorunwa Abbas, alias Hushpuppi, didn't come to him as a surprise.
The resident in a private message to a Nigerian academic and media scholar, Farooq Kperogi claimed Kyari is currently building a mansion on Jemina Road, Damboa.
Claiming the gate of the house was made of glass and steel, he alleged that the police chief offered N70 million to a neighbor who has a house behind his mansion "so he can have his house out of the way to enable him have straight access to the main road from this mansion."
"Good evening Prof. Just reading your post on the Abba Kyari saga. It didn't come to me as a surprise. Kyari is so super rich for the job he does. He is building a mansion on Jemina road of Damboa, that house is something else. It is the first gigantic double-gated house I'm seeing in Maiduguri, the gate is made of glass and steel.
"He wanted paying (sic) of a neighbour who has a house behind him 70 million naira so he can have his house out of the way to enable him have straight access to the main road from this mansion. And with a couple of people who have told stories implicating him, and them being shut up, it doesn't come as a surprise at all," Kperogi quoted the Borno resident as saying.
The United States Attorney's Office, Central District of California, had issued an arrest warrant against Kyari for his alleged links to Hushpuppi, who is standing trial for various offences that include internet fraud and money laundering, among others.
Hushpuppi has since pleaded guilty to the charges and, if convicted, risks a 20-year-jail term, three-year supervision upon completion of jail term and monetary restitution to the tune of $500,000 or more.
"The defendants allegedly faked the financing of a Qatari school by playing the roles of bank officials and creating a bogus website in a scheme that also bribed a foreign official to keep the elaborate pretense going after the victim was tipped off," said Acting United States Attorney Tracy L. Wilkison.
"Mr. Abbas, who played a significant role in the scheme, funded his luxurious lifestyle by laundering illicit proceeds generated by con artists who use increasingly sophisticated means.
"In conjunction with our law enforcement partners, we will identify and prosecute perpetrators of business email compromise scams, which is a massive and growing international crime problem."
"Mr. Abbas, among the most high-profile money launderers in the world, has admitted to his significant role in perpetrating global BEC fraud, a scheme currently plaguing Americans," said Kristi K. Johnson, the Assistant Director in Charge of the FBI's Los Angeles Field Office.
The court documents also outlined a dispute among members of the Hushpuppi conspiracy, which allegedly prompted him to arrange to have an individual identified as 'co-conspirator' Kelly Chibuzo Vincent, jailed in Nigeria by DCP Kyari.
According to the affidavit, "Kyari is a highly decorated deputy commissioner of the Nigeria Police Force who is alleged to have arranged for Vincent to be arrested and jailed at Abbas' behest, and then sent Abbas photographs of Vincent after his arrest.
"Kyari also allegedly sent Abbas bank account details for an account into which Abbas could deposit payment for Vincent's arrest and imprisonment."
The Inspector General of Police has ordered an internal review of the United States' authorities' allegations against Kyari.